I asked God, since I knew we were moving, "Please don't let Sophie die until I can bury her at the lake." I learned through my first dog, Maggie, that praying specific prayers goes straight to the heart of God. We were just a few months from move-in as they finished painting, laying the final stonework, and finalizing the landscaping in the next week. So, even though she didn't seem sick in any way, I was very aware of how close I was to getting her to the lake. But one day, after a long workday with our builder, we walked into our hotel room and I noticed Sophie struggling to get up from the floor. I had laid her pillow out for her to rest on because I knew she was older, and the floor wouldn't be her friend. I assumed that was all it was. Old joints. Hard floor. Three days later we would be in our vet's office saying our goodbyes. Multiple strokes had happened quickly and there was simply nothing they could do.
There have been few pains as great. Over thirty years I have mothered three dogs, all Shih Tzus. Two for fifteen years, and one for eight. Dog people understand. But those who don't, well, let me help you. Imagine if your kid never grew up but stayed a toddler for your entire life. Always in need of you. Always. On top of that they didn't talk back. Well, for the most part, Sophie didn't. They rarely get sick. Unless you leave out a jar of peanut butter or forget a large bar of chocolate in your purse and need a trip to the emergency vet, but then that's on you. And every time you leave them, kind of like a toddler, even if it is only for a few minutes, they act as if your arrival is as worthy of a celebration as the Queen's Platinum Jubilee. Never having children of my own, they have carved places into my heart that are deep and real. This loss cut to that place with no anesthesia. I was undone.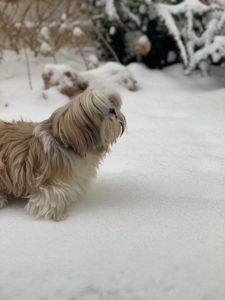 The vet for our journey was the son of another vet who had been my friend for years. Sophie's vet wasn't there that day, so this young gentleman got a crash course on love and loss. I would write to his dad later of the gift that he was to us that day. But I had a dilemma. I don't do cremation. I mean, I do not want any part in cremation. Philly has told me he wants to be cremated. I remind him that he only people who were cremated in the Bible, well… you know. I even tell him, "Jesus was buried!"
I had a friend say one day, "I don't want to be buried because I'm claustrophobic." I said, "Oh my goodness! So, you'd rather be burned!"
My arguments to Philly have not been fully persuasive either, so we are still debating. I'm of the opinion that if he's gone, he will have no idea what I do with him. And if I go first, he knows I'll haunt him for the rest of his life if he cremates me. But here, on this day, I looked into the blue eyes of this young man with a yet-to-fully-fit vet coat and said through my tears, "We are moving to the lake in a few months. It will be our forever home. I can't cremate her." Without hesitation he answers the question of my heart. "We will keep her here until you are ready." I hugged him. Like a mother holding her boy before he heads off into the big world. I did not want to let go. "Thank you," I whispered.
He patted my back. He was going to be a wonderful vet. We left numb. Broken. The house was so empty. Everything screamed of the loss. The empty pillow. The unused doggy bowls. The empty spot on our bed where she slept at night. But it was the silence that got me. I realized how much I talked to her throughout the day. She hadn't been able to hear for years, and Philly made fun of me often, offering, "Do you really think she understands you?" I knew she understood every word. Hearing or no hearing. Dogs read hearts anyway. I was lost. Two days later, I was looking at puppy pictures.
I had been talking about puppies for the last few years, but every time I did, I felt like Sophie was too old and I just needed to honor her senior years. So, I did. But my heart could not handle the silence. So, in search of noise I went.
"Don't you want to wait until we get to the lake?" Philly asked.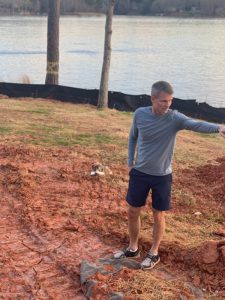 "I think it would be far easier to train a dog now, here in this home, than to get there in the middle of a busy move and trying to settle your life and train a dog."
"Don't you want to at least wait a couple of months and give yourself time to heal?"
I waited ten days. I am of that category. When I picked up Gracie Georgia Jones, as we named her, after her godmother, my fourteen-year-old niece, Georgia, who went to pick her up with me, we were smitten from first look. Those big brown eyes and large paws had me at hello. However, we underestimated at our age the grace we would need for Gracie. We call her the dog of our old age and we endured months of exhausting joy. Our hearts did not know how much they needed her. But the puppy energy had ransacked our home and our hearts. My greatest heartbreak in her arrival was my inability to smell her puppy breathe. I had so longed for that. But it would not be.
I did, however, get an unexpected joy. I watched her carve out a place in Philly's heart I had never seen. Sophie had come into the marriage with me. Gracie had come to us. I mean, the man did middle of the night potty duty, so he was definitely invested in every way. Now, she was making her first trip to the lake. We were decked out like new parents. We had the collapsible kennel I had found through my devouring of puppy YouTube videos. Then Instagram started tracking me and assaulting my pushover season, so we now had a little carrier I could wrap around myself as we did walk-throughs of the house. We had a carrier that hooked on the armrest between us for her to nestle in and feel "safe" the advertisement said. We also had a typical carrying case that I bought in more masculine colors, so Philly wouldn't feel self-conscious walking around with a frou-frou dog.
She loved everything about the lake. The sticks. The people. The pine straw. The hay. The acorns. The pinecones. Our builder. She was in puppy paradise. And she and Philly were creating a world all their own.
But as we settled into this new rhythm of exhaustion, it was also settling in on us that we were leaving our people. I had been so consumed with the building of this house, that my heart had not fully appreciated that I wasn't bringing my people with me. Apparently, my friends were already realizing this. But I had not sat in it. Until this day.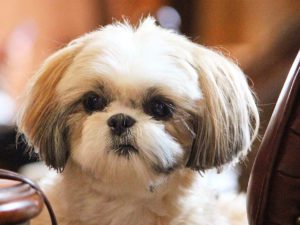 We were on our way to breakfast and the overwhelming sense of loss began to consume the air from the car. We were not fully leaving Franklin. But when we moved, we would not return until after Thanksgiving. We would be spending six months at the lake for now, without our weekly game and pizza night with the Hick's. Tuesday mornings with the prayer team and all the other adventures we had. Any evening with Stacey when she just wanted to get away and come watch a Hallmark movie and spend the night. Our church family. Our small group. My brother and the three most precious gifts you could have in this world, three of my nieces. All of which I had been fully engaged in every aspect of their lives from their entry into the world. Philly and I were like their second parents. What would it be like not seeing them whenever I wanted to, or having them spend the night whenever they wanted? How did I leave that?
As we sat at the breakfast table before our full day of meetings, I asked Philly, "Babe, what about friends?"
"What do you mean?" He ate another bite of his omelet. "We don't have any. How hard will it be to make them?" I sat my fork down. I wasn't hungry anymore. "We will just have to be intentional."
My voice was quivering now. "I haven't given this a lot of thought. We are leaving our people. I know God is bringing us here. I do not doubt that. He has made it so clear, but my heart is in Franklin. Thirty years of my life." I sat back in the chair and watched him eat.
He did not seem too concerned. I was now deeply concerned. "We will make friends babe. I'm sure God has friends for us."
He paid the check and we headed to the door when a voice came from over his shoulder. "Hi!" a tall man with a slim build said in a way that was inviting us to stop. We turned. "Hi!" We both greeted. "Do y'all live here?" He asked as his petite blonde-headed wife strided up beside him.
"We are building, actually," Philly offered. "How about you?"
"We are actually here to look at lots."
His magnetic personality was warm and kind. In less than ten minutes we had shared hometowns, children's ages and stages, jobs, and had invited them to our house to meet our builder. As we departed, the words were so clear to my heart from the heart of my Heavenly Father. That is how easy I will make it.
We closed the car doors in behind us. "God just answered our question, didn't He?"
"I believe He did," Philly said. "I believe He did."
I have learned through the years that God never plants us in a moment or a season of life where He doesn't have something for us. The loss in the soil of Sophie brought the planting of the gift of Gracie. The uprooting of all things familiar in Franklin would bring the planting in the lives of others in Georgia. Losing and Finding. God has been allowing that for a very long time.