One of the most painful moments in my life took place in a kitchen. It was the kitchen in my first home of my first marriage. I sat on the floor, pots around me as I tried to place them in the cabinet, while tears came out in bursts and fits. I was newly married. Less than two years. But the kitchen on that day was a war zone. The enemy of my soul had decided my heart would be the target. This memory had been resurfacing lately through some deeper counseling I had begun, because of all the Lord was stirring up in the process of building this house. I see now it was because of all He was trying to heal in order to reclaim things that had been lost.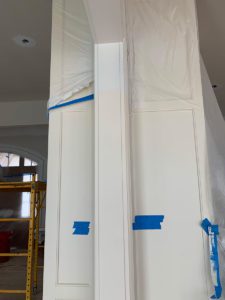 That's why, as we were driving to check on the house, I was putting pieces together. "I wonder if this is why the kitchen is the most important room to me? Why, whenever I am imagining this home, I only imagine two places? Sitting on the dock in the early morning hours before the sun, and the life and laughter that will happen in the kitchen. Maybe this is why."
I've learned some things about God through the years. He has a way of bringing pain to the surface when it is time, and when He knows we are ready.
May I enter your story here? Will you give me permission to pause this blog for a second to check on you? Has reading this blog series rummaged through your story? Stirred pain? Awakened something? Anything? Anger? Hope? Jealousy? Desire? Caused you to consider a stifled dream? Or a statement like "that doesn't matter to me" that you've made in regard to something in your own life?
Can I tell you, if it has, it is not an accident? God is a master of stirring things in us when it is time for us to deal with them, and He knows we have what we need to do so. Our responsibility is to pay attention, become curious, invite Him into it, whatever it is, with the realness and rawness of David's prayers in the Psalms. Then listen for His heart to us. Remembering His heart is always… hear that again… always… for us.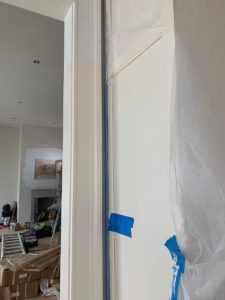 Okay, I will leave you now to finish this story.
This was a big trip. Our baby would be a toddler when we entered. Or maybe a preteen. All I know is she would have walls inside and her outsides would be painted. She would have the floors and cabinets installed as well. As we rounded the corner of the cul-de-sac and she came into view as she had so many times before, and my heart rate increased as it did every time, she looked more like a young lady all dressed up to go out. She was growing up and I was a bundle of emotion. Excited at her beauty. Sad at the previous stage being gone. Anxious over what was ahead. It was all there and it was all real.
We walked inside and there were no more insides to see. Everything was now closed in, and every space clearly defined. No guessing of how big a room would be. It was all there. The vision on paper now stood in front of us. It reminded me of the line to the old hymn, "faith will be made sight." It felt that way today.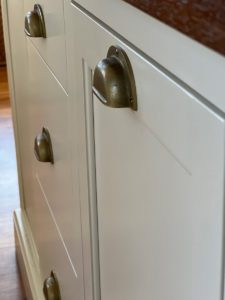 As we walked through the front door and saw that the pine floors had been laid, I was unprepared for how beautiful they would be. Knotted. Variegated. Stunning. As they stretched out before us in the large gathering room it made the room look even larger. I looked at Philly. His face talked. His face never talks. Finally, his mouth caught up, "Wow, they are beautiful." He had not asked for much, but he did ask for this. To see his face made me grateful he had.
I took my shoes off to feel the planks beneath my feet. They were so soft. A different kind of soft. As if your feet were always leaving a memory. An impression. Not squishy beneath you, but holding you as if in a hand instead of holding you up as if on a piece of plywood. We were going to be so glad we made this decision.
But in all things this monumental, when one little thing is off, that one little thing can stand out. The cabinets I was most excited to see were the kitchen cabinets. I had envisioned them from before conception. I knew every detail. The sink side with only drawers. The island has both cabinets and drawers and two antique brushed gold long handles to hang dish towels. The refrigerator wall where two side cabinets will flank it made to look as if they were pieces of furniture, with small drawers, large drawers, painted knobs and cupboard clasps. Each detail was etched in my mind like Sophie's idiosyncrasies.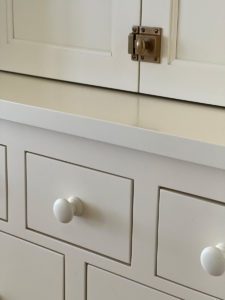 Yet, standing there in the kitchen seeing these cabinets for the first time, I was struck by two things. First, they were gorgeous. The cabinet maker could not have captured my vision more perfectly. But, remember how I told you that a major interior design rule is to do your paint color last? Well, this is super easy if you aren't wanting your cabinets to match your wall color. But when you do, this option is thrown out the window, because your cabinet color must be known very early in the game due to the time it will take to make them. So, you have to labor over making sure you have the absolute perfect color that you are ready to spend years with, even before any fabric gets in the room, any floor is laid, or any light fixture hung, because it is going to be way too expensive to change the color if you get it wrong. Yet here I was looking at my cabinet color thinking I had made the worst, most expensive mistake possible.
In this setting the cabinet color looked yellow. Not Medici Ivory, the most perfect cream imaginable. No, this lay somewhere in between smiley face yellow and butter. Not either of those, but in between them. Kind of like the color bleached blond hair turns after it has spent too many days swimming in a chlorine pool. I was gut sick. Heart sick. Sick. How do you fix this? The entire kitchen was this color. The large bookcase was this color. The laundry room was this color. The master bath was this color and my parent's bathroom was this color. Not to mention the entire house including trim was going to be this color. I had traveled with my poster board sample of Medici Ivory for over twenty-five thousand miles in the last year until it was water stained, creased, and frayed, and now here I was staring at the kitchen of my dreams and it did not look like my sample.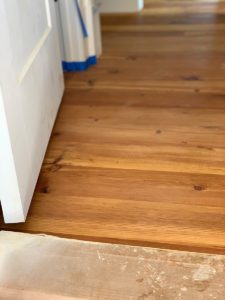 Our builder had also painted a sample on the walls and the trim so we could confirm the color before they painted the entire house. As I studied it, I lie not, it was worse than the color of the cabinets. The sample was sunshine yellow. It didn't resemble the color ivory in any sense. I moved my wide eyes to the trim sample that they painted next to the kitchen cabinet. Not only was it so not ivory, it didn't even match the color of the cabinets. Apparently, the wood material of the cabinets was holding the color differently than the walls and trim were going to. While not one of them was holding it as my worn sample of Medici Ivory.
"I need Packer," was all I could mumble.
Another meeting forced us back into the car and away from what felt like an insurmountable mistake. The meltdown was at least confined to our car instead of shared with the gracious workers peppered around our home. I started the ugly cry. "This is why you hire a real designer. I've been working on paint colors from day one." I emphasized it again in case Philly missed it the first time. "Day one! Because I knew I wanted the cabinets to be the same as the walls and they made me choose that first, and it looks horrible!" Another burst of tears ensued. The remaining diatribe had to make their way through the emotion. "And I've worked so hard on it! I haven't worked as hard on anything more than choosing the paint color!"
"Babe," Philly's calm voice broke through. Our dance of composure and turbulence began. "The cabinets are beautiful. The color could not be prettier."
I cried on. "It looks like over-cooked egg yolk."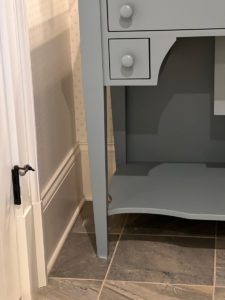 "It does not. It's absolutely beautiful. But you're right, the wall color doesn't match. So, Dan will get them to match the wall color to the cabinets and I think it will look beautiful. You need to trust yourself."
I tried to gather myself. I didn't want to walk into the next meeting whimpering or blubbering. Neither was attractive on a woman in menopause. My heart remembered my tile designer's words. "You need to always trust your first instinct. You come back to it every time and it has always been right."
Medici Ivory had been my first choice. From the very beginning, when I displayed the Baskin Robbins 31 shades of white before me, it was perfect. It went with every fabric and every shade of carpet and each and every decision. I called Packer anyway. I cried again. She scolded me for crying, then apologized for scolding me. This was our dance. We would make another trip over the weekend, and she would come with us because it had to be finalized quickly in order not to delay the house, and at this point, I had no confidence in my ability to make this decision.
As Packer entered the house the next week and we studied the color together she said, "Well, you are right. They are not the same color." Then entered her genius. "Dan, let's add one drop of brown to the color and see where that gets us."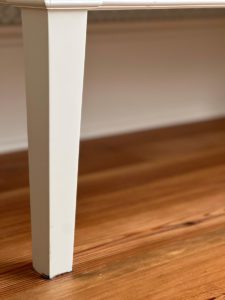 My mind was swirling. A drop of brown. Seriously! I would have never thought of that.
We came back a few hours later and they had put another sample on the trim next to the cabinets. My heart still sank. It was not the same. But I didn't know what else to do. We had tried the brown, but it had not worked. I would settle. "It will be fine." I left knowing in my heart it wasn't fine.
That night we stayed at a little condo on the property. While I was taking an online class Philly and Packer, unbeknownst to me, were having a conversation. When I finally joined them she said, "I saw your face today. You can't leave this way. It is too important. I want them to give us two more samples, each with an additional drop of brown. Let's see if that works." I was deeply struck by this encounter with her. I was struck by her knowledge, of course. But I was struck more with the fact that she saw me so well. Without me saying anything about my unsettledness, she had not missed it. In all our years of doing life together, and boy had we done a lot of life together, she could see on my face what was in my heart, and it was not okay for her to let it land there. Her heart for me did far more than remedy a paint color. It healed a piece of me.
The next morning my heavenly Father did that thing He does. He spoke to me in my details in that language of love He and I have. Before we headed back to the house to see our two new samples, we went to breakfast. As we waited at the hostess stand we stood in front of a painted piece of furniture. A sunshine yellow piece of furniture. "This is yellow," I heard Him whisper. "Your cabinets are not yellow."
As we entered the house, I realized quickly the cabinets were not yellow. I still wasn't sure they were the perfect shade of cream I had chosen, but they definitely weren't the yellow I was calling them. Then we studied the two new samples. The middle sample would hold the perfect match of wall, trim, and cabinet. When everyone walked from the room, I stood in the kitchen one last time. "Thank you for redeeming the kitchen," I whispered. "I didn't even realize I needed you to."
I felt His smile. His happy face, sunshine yellow smile. He has such a great sense of humor.